Silicon Carbide Heat Exchanger for Chemical Industry
Many processes in the chemical industry are carried out in an environment with high temperature, high pressure and strong corrosive properties. Therefore, they need equipment, such as the silicon carbide heat exchanger, that features a strong corrosion resistance, oxidation resistance and erosion resistance to fully meet their production needs. Our silicon carbide heat exchanger for corrosive media can withstand high concentrations of sulfuric acid, nitric acid, phosphoric acid, mixed acid, strong alkali, oxidants and other highly corrosive materials. In some processes that mixed with hydrofluoric acid, it is difficult for rare noble metals such as titanium and zirconium to resist the corrosion, which is why silicon carbide is an excellent choice as it is the only ceramic material that resists hydrofluoric acid corrosion.
Corrosive medium
Temperature(℃)
Corrosion rate mg/cm2.Y
Corrosion rate mm/Y
98%H2SO4
Sulfuric acid
100
0.98
0.0032
54%HF
Hydrofluoric acid
25
0.06
0.0002
50%NaOH
Sodium hydroxide
100
1.25
0.0040
45%KOH
Potassium hydroxide
100
0.04
0.0001
70%HNO3
Nitric acid
86
0.04
0.0001
37%HCL
Hydrochloric acid
25
0.07
0.0002
10%HF&HNO3
Hydrofluoric acid & nitric acid
25
0.05
0.0002
10%HF&HNO3
Hydrofluoric acid & nitric acid
120
1.25
0.0040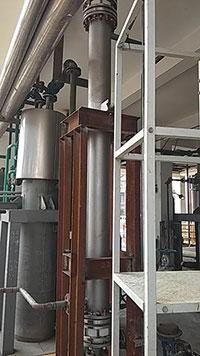 In 2017, a large chemical enterprise in China who uses hydrofluoric acid in their production process, had made use of several heat exchanger varieties such as a titanium heat exchanger, zirconium heat exchanger and graphite heat exchanger in their equipment. However, these heat exchangers did not resist corrosion like they needed and often leaked. Therefore, they came to us and detailed their working conditions and requirements. Our technicians then offered technical solutions using a professional design system. We provided them with silicon carbide heat exchangers, with the design temperature of 150 ℃, the design pressure of 0.6MPa and the heat exchange area of 12m2 in order to solve their technical problems, earning significant praise in the process.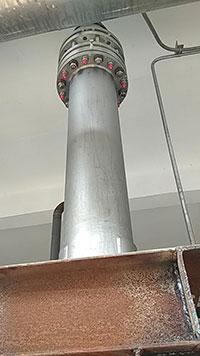 In 2017, an international capital enterprise was using different heat exchangers, such as graphite heat exchangers soaked by furan resin, phenolic resin and tetrafluoro resin respectively and a titanium heat exchanger. However, these heat exchangers often leaked, causing the company to turn to us for assistance. We provided them with double tube sheet silicon carbide heat exchangers for corrosive media, effectively solving the leakage problems, as well as preventing hidden dangers caused by cross contamination of working medium and service medium.