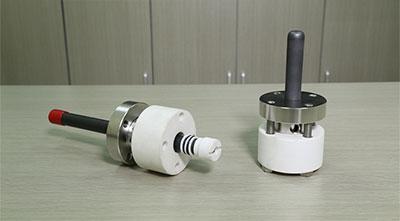 Application:
SiC high temperature sensors are used to detect material temperatures in the working environments that make use of high temperature, high pressure and strong corrosion materials. This high temperature sensor is able to withstand highly corrosive mediums, such as high concentration of sulfuric acid, nitric acid, phosphoric acid, hydrobromic acid, hydrofluoric acid, sulfonic acid, mixed acid, strong alkali, organic solvent, oxidizer and so on. Compared to a traditional PTFE and enamel temperature sensor, the SiC high temperature sensor features a faster temperature sensing, high temperature and high pressure resistance. This product was independently developed by our company to meet the requirements of temperature measurement for customers using anticorrosive equipment. The SiC high temperature sensor features leak detection to meet customer safety requirements, and at the bottom of the sensor, there is a PTFE tube sheet, sealing ring and sealing nut to ensure the sealing performance.
Parameter:
Maximum design temperature: 850℃
Maximum temperature in-service: 850℃
Maximum design pressure: 1.6MPa
Maximum pressure in-service: 1.3 MPa
Characteristics of SiC high temperature sensor:
High temperature resistance: it can be used at 850℃.
Corrosion resistance, oxidation resistance and erosion resistance: silicon carbide has the characteristics of high density, low porosity and chemical inertness, so it can be used for a long time under the condition of oxidizing, corrosive gas, strong acid or strong alkali, high temperature and liquid.
High hardness: silicon carbide is an ultra-hard material, second only to diamond, making it suitable for use in special working conditions.
Wear resistance: The high hardness and high density of silicon carbide ensure that the SiC high temperature sensor can be used for highly abrasive conditions.
High thermal conductivity: the thermal conductivity of silicon carbide at room temperature is 120-140W/m*k, which is superior to other ceramic materials and metal materials.